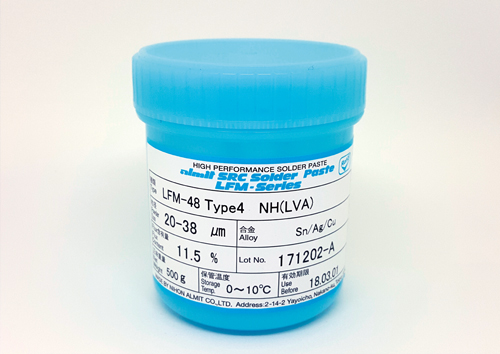 LFM-48 NH(LVA)
High Reliability Non-Halogen Solder Paste
J-STD ROL0 Non-Halogen solder paste. Good wettability under Air Reflow Oven, less voids, stable printing deposit from 1st print.
Feature1:Minimizes voids by reducing evaporated gases during reflow soldering and  improving fluidity of the flux.
Evaluation Void test
■ Reflow Condition
・Air Reflow
・PH160-190℃/90sec、Peak240℃
Feature2:Improves printability with drastic revised New Flux ingredients. Provides decent print deposit from 1st print, stable continuous printing is available.
Evaluation Continuous printability test
■ Test Condition: Print Speed:50mm/s
Squeegee Pressure:25×10-2N
Snap off Speed:Constant Speed 5mm/s
Continuous printability test for 12 pieces→ Cleaning→ Then continuous printability test for 4 pieces(Total 16 pieces)
Feature3:New Non-Halogen L0 solder paste has equivalence wetting property as existing L1 products (Halogen < 0.5%)