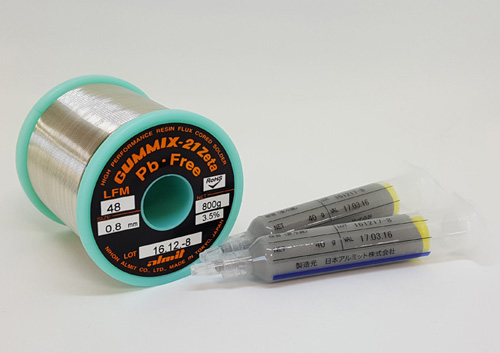 Solder Pastes for Laser Soldering
Halogen type: SSI-M/ Halogen-free type: NH-MDL, NH-LS
We provide solder pastes for non-contact soldering utilizing laser, etc.
Excellent coating properties with less flux spattering even under rapid heating.
Solder Pastes for Laser Soldering
Core Solders for Laser Soldering
GUMMIX-SB RMA / GUMMIX-19CH / GUMMIX-21Zeta / GUMMIX-HF
GUMMIX-19CH LFM-48


These products have less flux spatter even under rapid heating, and easily meet conditions for laser soldering.
Core Solder Products Specifications
Flux Name
Alloy Name
Alloy Composition
Particle Name: Particle Size
Flux Content
Viscosity
NH-MDL
LFM-48
Sn-3.0Ag-0.5Cu
W:20-38μm
U:10-28μm
13.0%
90Pa・s
LFM-65
Sn-58Bi
X:25-45μm
W:20-38μm
12.0%
80Pa・s
HF-A
LFM-48
Sn-3.0Ag-0.5Cu
W:20-38μm
U:10-28μm
13.0%
105Pa・s
SSI-M
LFM-48
Sn-3.0Ag-0.5Cu
X:25-45μm
W:20-38μm
U:10-28μm
13.0%
80Pa・s
Core Solder Product Specifications
| | | | | | |
| --- | --- | --- | --- | --- | --- |
| Flux Name | Alloy Name | Alloy Composition | Flux Content | Melting Point | Target Wire Diameter |
| GUMMIX-SB RMA | LFM-48 | Sn-3.0Ag-0.5Cu | 3.5% | 217-220℃ | 0.3 0.38 0.5 0.65 0.8 1.0 1.2 1.6 |
| GUMMIX-19CH | LFM-48 | Sn-3.0Ag-0.5Cu | 3.5% | 217-220℃ | 0.3 0.38 0.5 0.65 0.8 1.0 1.2 1.6 |
| GUMMIX-21Zeta | LFM-48 | Sn-3.0Ag-0.5Cu | 3.5% | 217-220℃ | 0.3 0.38 0.5 0.65 0.8 1.0 1.2 1.6 |
| GUMMIX-HF | LFM-48 | Sn-3.0Ag-0.5Cu | 3.5% | 217-220℃ | 0.3 0.38 0.5 0.65 0.8 1.0 1.2 1.6 |